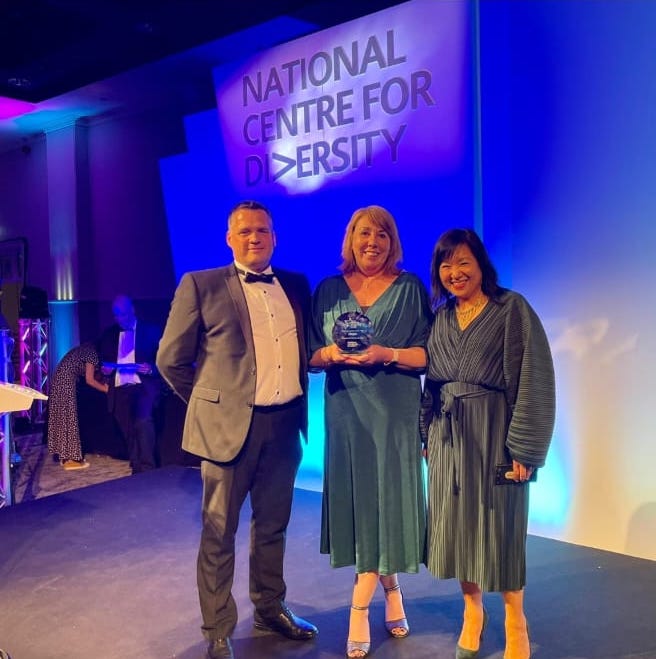 Delighted to win the Housing Provider of the Year award at National Centre for Diversity's FREDIE Awards, for our work championing Fairness, Respect, Equality, Diversity, Inclusion and Engagement!
---
Last Thursday the very best of the UK's top equality, diversity & inclusion champions celebrated at the National Centre for Diversity FREDIE Awards 2022.
Held at Villa Park, Birmingham, this year's event highlighted the excellent work organisations and those that work for them do to promote Fairness, Respect, Equality, Diversity, Inclusion and Engagement (FREDIE) at the highest level in workplaces across the UK.
The event showcases, celebrates and honours companies as exemplars in promoting excellent EDI policies, and individuals who have been recognised for their contributions and commitment to improving practices and making working environments more inclusive.
Solat Chaudhry, NCFD Chief Executive, said: "Well done to everyone. It is so important to demonstrate the excellent work that all our winners tonight achieve in building positive communities to improve cultures and attitudes, ensuring fairness for all.
I am particularly proud that we celebrate excellent work across all sectors as these organisations are the future of the workplace in the UK.
We celebrate the exceptional work of people and organisations who have EDI running through their DNA. Let's rejoice at this and build a better society.
The outstanding companies that won tonight bring a sense of decency, stability, certainty, well-being, hope, optimism and resilience in a world where mainstream political rhetoric has hardened.