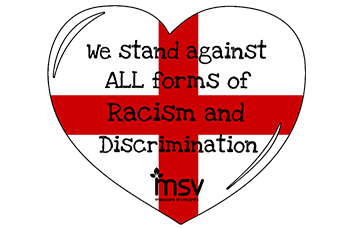 A message of support from our CEO, Charlie Norman
"MSV takes an active stance and will call out everyday racism, discrimination of any type and hate crime.
Like everyone, I was so horrified to see the abuse of the young footballers on Sunday night. Those young men exemplify the very best of our country, they are true leaders and have inspired social change and justice. They are today's real leaders and role models and we join everyone who has stated their disgust with the behaviour of these racist individuals - it's abhorrent,  it's criminal and it needs to be stamped out NOW. 
Love wins over hate every time, and this has been shown by the outpouring of love at the Marcus Rashford mural in Withington"