We are delighted to achieve a 'Silver' award in our recent SHIFT (Sustainable Homes Index for Tomorrow) assessment.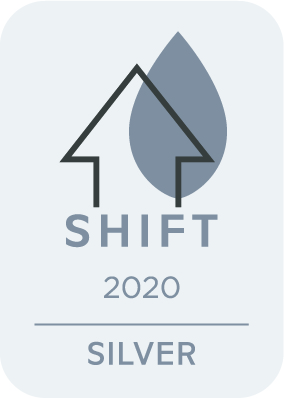 SHIFT is the sustainability standard for the housing sector and provides national recognition of our commitment to sustainability across the organisation and to providing energy-efficient homes for our residents.
As part of our 2020 - 2023 Sustainability Strategy, we're committed to reducing our impact on the environment and we recently carried out a full carbon assessment across our organisation. We are working to retrofit properties which fail to meet our standards and we recently applied for ERDF funding to undertake a deep energy retrofit of existing homes.
We are in the process of carrying out a number of renewable installations on up to 55 of our properties which will include, insulation, PVs, battery Storage and Air Source Heat Pumps (ASHP) which will help to further reduce our energy consumption. We are also carrying out, with the help of the Energy Council, a number of whole house retrofits over the next three years and we have future plans to fit a commercial ASHP on a new housing scheme in Manchester which will be a first for MSV!