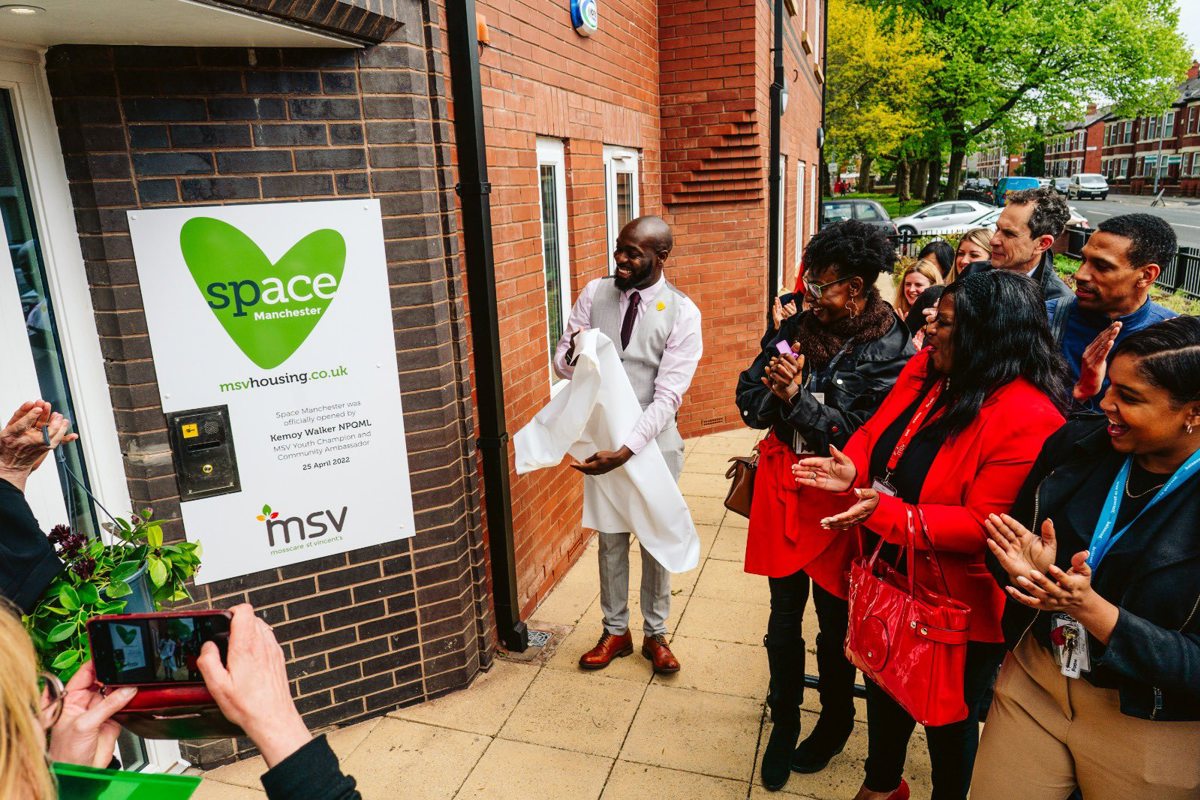 MSV has today (25 April 2022) launched two new community initiatives at its site on Great Western Street in Moss Side, Manchester.
The former head office of Mosscare has stood empty for some time and rather than revamp the building to create an office-base (the original plan), the company has instead looked to the needs of the local community.
---
The first floor of the now remodelled building provides 17 self-contained apartments for care leavers. The House Project will provide floating support. The scheme provides much needed, high quality and affordable homes for young people – their first forever home. This will help save money for the public purse, but most importantly will help the young people to have a solid foundation and a home which will help them flourish.
The ground floor has become the base of MSV's new Positive Futures service. Positive Futures provides training and support for anyone in the community who wants to access training and courses to develop the skills needed to move back into employment. The Positive Futures team will provide wrap-around support to those who use the service to identify their barriers and work alongside them on their journey to employment. Services include 1-2-2 support, courses, traineeships, apprenticeships, work experience, school work experience and volunteering
Chief Executive, Charlie Norman, said: "We are living in such difficult times, and care experienced young people have been especially detrimentally impacted. We are absolutely thrilled that we have been able to build on our Foyer and Care Leaver work, working in partnership with the City Council, National Housing Project and Homes England to convert this old office building into amazing flats for young people. The accommodation is fab – such high quality, so affordable and in a wonderful community. I know from talking to the young people, they are thrilled to have moved here and we wish them all the very best for positive futures ahead. It's been an absolute privilege to be able to support this scheme.
Equally, our new Positive Futures Service is a real step towards (proper) levelling up. MSV is lucky to be a community anchor organisation in Moss Side and we know from first-hand experience that many people have been hit hard by the pandemic and either their jobs no longer exist or they simply find they need to retrain. We hope we will be able to play our part in supporting people from this community and our wider neighbourhoods to build skills and gain fulfilling and rewarding work to suit them.
Kindness and compassion is what is required when helping people to refocus and move on with their lives. I believe MSV is doing both of those things with this brilliant new development. Our teams have done an absolutely brilliant job and we are very excited to launch this today".


---
Overall development costs: £2.4million signalling a significant investment in the area.
Architect: Bernard Taylor Partnership
Contractor: Rowlinson Constructions
Employers Agent: Wilkinson Cowan Partnership
---