Pronouns
Pronouns are a way that we identify with the world, and they move with us throughout our lives. They are personal and using them correctly shows respect for the person we're talking to. Pronouns include he/him, she/her, they/them and zie/zir. 
Pronouns are connected to gender expression, which is the how we show our gender "expressed through a person's name, pronouns, clothing, haircut, behaviour, voice, and/or body characteristics."
Using someone's correct personal pronouns is a way to respect them and create an inclusive environment, just as using a person's name can be a way to respect them. Referring to someone by the wrong pronoun can be offensive, harassing and can imply the oppressive notion that intersex, transgender, nonbinary and gender nonconforming people do not or should not exist.
We all make mistakes, so if you get someone's pronouns wrong please apologise and correct yourself. You can also show support with someone who uses pronouns that others may mistake by politely correcting someone who has used the wrong pronoun even when the person isn't there.
A great way to create and normalize space for people to share their pronouns is first to share your own. You can do this by saying, for example, "Hi, my name is Farida and I go by the pronoun 'she'" or "I'm John and I'm referred to by 'he/him' pronouns."
Including pronouns in e-mail signatures is another great way to show that you are committed to trans equality. This is a really quick and easy thing to do that helps avoid mistakes and visibly demonstrates allyship.  
Find out more information about pronouns at  www.mypronouns.org.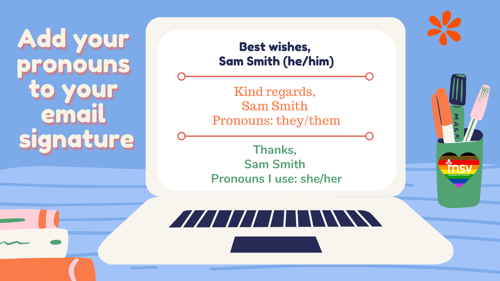 Our LGBT+ Culture Recommendations:
Recommended film: Imitation Game
Recommend TV: Pose (BBC iPlayer & Netflix)
Recommended read: The Binding by Bridget Collins
Inspirational Person of the Week - Lord Waheed Alli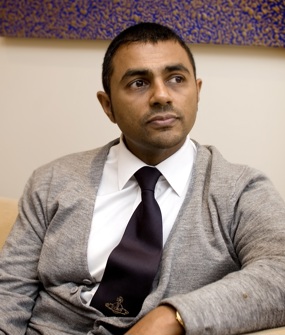 Lord Waheed Alli is a media entrepreneur and politician. He is the co-creator of the television series Survivor and has held executive positions at several television production companies including the Endemol Shine Group, Carlton Television Productions (now ITV Studios), Planet 24, and Chorion.He is currently the Chief Executive of Silvergate Media, Chairman of Koovs Plc and a director at Olga Productions.
In 1998 Alli becomes the first openly gay member of the House of Lords and one of a few openly gay Muslim politicians. Alli has used his political position to argue for gay rights, spearheadeding the campaign to repeal Section 28. He advocated lowering the age of consent for homosexuals from 18 to 16, equal to heterosexuals; this eventually became law as the Sexual Offences (Amendment) Act 2000.
In April 1999, Alli said in a speech, "I have never been confused about my sexuality. I have been confused about the way I am treated as a result of it. The only confusion lies in the prejudice shown, some of it tonight [i.e. in the House], and much of it enshrined in the law."
In 2009, Alli spearheaded an effort to repeal clauses in the Civil Partnership Act 2004 which prohibited religious institutions from conducting the ceremonies on their premises. This campaign culminated in a bipartisan amendment, which became part of the Equality Act 2010.
Alli's work has been focused around gay rights, youth and education. Alli is a patron of The Albert Kennedy Trust and the Elton John AIDS Foundation. Alli was a keynote speaker at the International Conference on LGBT Human Right in 2006, which led to the Declaration of Montreal. This Declaration outlines a number of rights and freedoms pertaining to LGBT and intersex people that it is proposed be universally guaranteed.
Did you know?
In 2011 Manchester was named the most gay-friendly city in the world, ahead of London, Amsterdam and San Francisco.