Our LGBT+ Culture Recommendations:
Recommended film: The Death & Life of Marsha P Washington (available on Netflix)
Recommend TV: Drag SOS (features Manchester drag royalty, available on All4)
Recommended read: The Colour Purple by Alice Walker
Inspirational Person of the Week - Munroe Bergdorf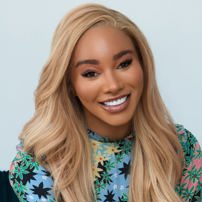 Munroe Bergdorf is a model and activist who has fronted campaigns for Illamasqua, Missguided and Rayban, closed shows at New York and London Fashion Weeks and has been featured in numerous global publications including Vogue and The Sunday Times Style.
Munroe uses her platform to advocate for gender, LGBT+ and racial equality, regularly appearing on national and international TV and writing for publications including Grazia, The Guardian and Teen Vogue.
Bergdorf made history in 2017 when she was hired as the face of a L'Oréal U.K. campaign, making her the brand's first transgender model. However, she was fired shortly afterward when the Daily Mail published a Facebook post she wrote denouncing racism after a Unite the Right rally in Charlottesville, Virginia, left one person dead and 19 others injured.
In 2020 following the tragic death of George Floyd, L'Oréal issued a statement in support of the Black Lives Matter movement. Munroe challenged L'Oréal on this, commenting how their statement was hypocritical and a form of gaslighting given they had fired her for taking a stand against racism. Munroe highlighted how words mean nothing without action and that Black Lives Matter is more than a PR opportunity for big brands.
Munroe stated, "Over the past three years I realised my responsibility as an activist is to help us unite as people, regardless of our identity. Part of my work is to encourage big businesses to understand their responsibility with regards to diversity and inclusion."
After Munroe's callout, the company announced that it was forming a U.K. Diversity & Inclusion Advisory Board, which Munroe would be a part of. In a statement L'Oréal apologised to Munroe and said that they now recognised that they had silenced Munroe when they should have used their power and influence to amplify her voice.
Did you know?
Until 2003, employers could discriminate against LGBT+ people by not hiring them or promoting them, based on their sexual orientation or gender identity. LGBT+ people did not have protection from bullying and sometimes were not offered the same benefits as other colleagues.
LGBT+ Mental Health
Anyone can experience a mental health problem. But those of us who identify as LGBT+ are more likely to develop problems like low self-esteem, depression, anxiety and eating problems. Research by Stonewall found that:
Half of LGBT+ people (52%) experienced depression in the last year
Three in five LGBT+ people (61%) experienced anxiety in the last year
One in seven LGBT+ people (14%) avoid seeking healthcare for fear of discrimination from staff
Being LGBT+ does not cause these problems. The reasons why those of us with LGBT+ identities are more likely to get them are very complicated. But it is most likely to do with facing things like:
homophobia, biphobia and transphobia
stigma and discrimination
difficult experiences of coming out
social isolation, exclusion and rejection.
Here are some great organisations and resources which support LGBT+ people with mental health and wellbeing needs, including helping you find LGBT+ friendly helplines and therapists.
| | |
| --- | --- |
| | |
| | Switchboard, the LGBT+ Helpline – safe space for anyone to discuss anything, including sexuality, gender identity, sexual health & emotional wellbeing. |
| Pink Therapy – independent organisation promoting high quality therapy & training services for LGBT+ individuals. |   |
| | Mind Out – LGBT+ mental health services |
| LGBT Foundation Wellbeing Hub has loads of ideas for looking after your wellbeing | |