February is LGBT+ History Month and we're celebrating with pride at MSV! 
Our LGBT+ Culture Recommendations: 
Recommended film: Moonlight
Recommend TV: It's a Sin (available on All4)
Recommended read: Girl, Woman, Other by Bernardine Evaristo
Inspirational Person of the Week - Nicola Adams OBE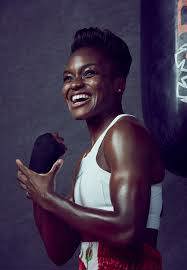 Nicola Adams OBE is officially Great Britain's most successful female boxer of all time. In August 2016, Nicola became the first British boxer to successfully defend their Olympic title for 92 years. Nicola has now secured a grand slam of titles and is the only female boxer in the history of the sport to have won every major title available to her; Olympic, World, European and Commonwealth.
In recognition of her services to boxing and unprecedented achievement, Nicola was appointed Member of the Order of the British Empire (MBE) in the 2013 New Years Honours list, and then in 2016 an Order of the British Empire (OBE). In 2012 The Independent named her as the most influential LGBTI person in Britain.
In 2020 Nicola made history again by being in the first ever same sex pairing on Strictly Come Dancing. "I think it's really important, it's definitely time for a change," said Nicola, "It will be nice for the LGBT community to be able to see there are same-sex couples on the show as well, it's just breaking those boundaries and showing people that it's OK".
Did you know?
The World Health Organisation listed homosexuality as a mental disorder until 1992. Many LGBTQ+ people in the UK were subjected to aversion treatments and detrimental counselling as a result of this. 
Connecting with others in the LGBT+ Community
Lockdowns, social distancing and spending a lot more time at home has changed how we interact with others. Increased isolation has negatively impacted our mental health and we want to encourage you to reach out and connect with others.
Research by the LGBT Foundation states that feelings of isolation during lockdown have really impacted LGBT+ people as they're unable to access accepting and reaffirming LGBT+ spaces and communities. 64% of LGBT+ people surveyed in this research said they would rather receive support during this time from an LGBT+ specific organisation, so here's some fantastic groups to help you get connected with other LGBT+ people: