Thank you to all our customers and schemes who were able to take part in our residents gardening competition.
We called Lesley Hulme, a resident of Vincent Court to ask her a few questions on what gardening means to her and the other tenants who also volunteer in the communal garden: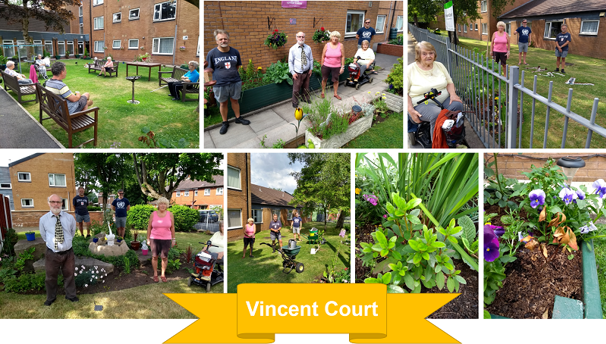 What does having a garden mean to you and the other tenants? 
Gardening means the world to me. Ever since I was a little girl I have always been interested in gardening and would often help my Father in the garden and now, in my 70s, I still can't wait to get out into the garden at Vincent Court. There are about 4 or 5 other tenants that also volunteer to help out in the garden planting flowers, fruit trees and vegetables. You can find Paul waiting at his window at 9am every day getting ready to get stuck into some gardening. Brenda also does a lot of planting flowers. 
How has being able to get out into the garden helped your mental health and well-being during the current situation with COVID-19? 
When the COVID outbreak first happened, I was stuck in lockdown in Egypt and I wanted nothing more than to get back home to the garden. For me, and a lot of the other residents, without having a garden to work on I would crazy. Being out and working in the garden helps tenants to forget all the madness going on in the world right now and can relieve the boredom they may feel when self-isolating. There is no better feeling than waking up in the morning and looking out onto a lovely, peaceful garden. 
What is your favourite part of the garden? 
My favourite part of the garden is the greenhouse which is currently filled with tomatoes. Along with the vegetable patch where we are growing potatoes and cauliflower. Once the vegetables have grown, they are then harvested and handed out to the other residents, free of charge of course! 
Would you like more gardening opportunities or competitions in the future? 
Yes definitely! Although gardening is an expensive hobby being able to showcase the hard work in the future would be great. 
If you were a flower or plant which would you be and why? 
I'd probably be a dandelion because I'm a pain in the neck! 
---
Thank you to everyone who entered for your hard work, patience and enthusiasm in helping to make your gardens and communities so attractive and huge thanks to our resident judge who volunteered her time to judge this year's competition.