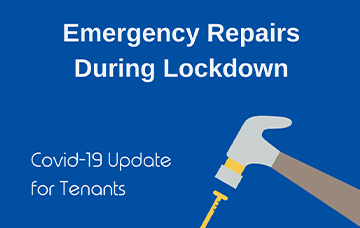 As we start the new year with heightened restrictions across England, the message from the Government and from MSV is to Stay at Home if you can, save lives and protect the NHS.
---
Our number one priority remains the health and wellbeing of you and your family, our contractors and colleagues. We know how important the repair and maintenance of your home is, and how essential it is that we get it right and do it safely. 
To continue to provide essential services, we are moving to emergency repairs and prioritising the backlog of repairs only. This will help to reduce unnecessary travel and contact and help to slow the spread of infection and keep customers and colleagues safe during lockdown. 
We, therefore, will not be logging any new non-emergency repairs until further notice. You can still call us on 0161 226 4211 to log emergency repairs and if you had a repair appointment postponed previously due to the impact of Coronavirus, we'll contact you and arrange a new appointment at a convenient time to you. You can also email enquiry@msvhousing.co.uk if the lines are busy.
We thank you in advance for your understanding and patience. We will update you on our website and social media when we're able to resume a full service. Please find further details on our Report a Repair page.
If you smell gas, call the National Grid emergency number 0800 111 999.
You can find check out the latest government guidance here: www.gov.uk/guidance/coronavirus-covid-19-information-for-the-public
If you do have an operative visiting your home to carry out a repair, we will take every precaution to keep you safe. 
Our operatives have health and safety measures in place and will be following good hygiene and social distancing practices while working, which includes keeping two metres from you or any family member when they are in your home.
They will arrive wearing PPE which may include face masks, eye protection, gloves, shoe covers and protective coveralls. Our advice is to open the door and then, if you are can, stay in one room away from where they are working or the standard 2 metres away from their workspace at all times. We recommend wearing a face mask throughout the visit and ventilating the room where our staff will be, by opening windows, unless this negatively affects the health condition of anyone remaining in the room.
If you are self-isolating or showing any symptoms of Coronavirus, it is important to let us know and we will work to find a way that allows us to complete essential services and repairs while best protecting your health and safety and that of our operatives.
If you have specific questions or are struggling at all and require our help, please get in touch with us at enquiry@msvhousing.co.uk or ring us on 0161 226 4211.