With more time this year being spent indoors and online, it's no wonder that fraud and scams have been catching people out. With many shops shut, more and more people are turning to online shopping looking to bag a great deal. Scams can happen to people of all ages and backgrounds and all of us can fall victim to online scamming.
So, what can we do to protect ourselves online?
Keep your personal details safe, never give out your details as this can be a really easy way for scammers to steal your identity and personal information. There has been an 84% increase in impersonation scams with a huge 15,000 cases being reported in Jan-June 2020. That is £58million lost to impersonation scams in the first six months of last year
Choose strong passwords, never use the same password twice, try to use a mixture of special characters and capital letters, remember to keep a note of passwords somewhere safe.
Always use an official website if purchasing goods - check to see if the web address starts with HTTPS, not just HTTP.
If you receive a suspicious e-mail do not reply, scam e-mails are a lot more sophisticated these days and can look almost identical to an official one.  Official e-mails will never ask you for personal details or bank details, however scam e-mails tend to contain spelling mistakes and will rarely be addressed to yourself.  If in doubt, don't!
Always use a safe an secure Wi-Fi connection, if purchasing anything make sure you do this from your own home rather than using public Wi-Fi
Make sure you have an up to date anti-virus software on your computer.
During lockdown there has been a rise of scam e-mails and texts – here are a few examples doing the rounds:-
- Fraudsters posing as the HMRC asking you to click a link to receive your tax refund
- An email asking you to confirm your Apple ID has recently changed by clicking a link
- Scam emails informing you you've breached COVID lockdown restrictions and telling you to pay a fine by clicking a link
- An email informing you your Paypal account has been restricted unless you confirm your identity by clicking a link
- An email from your network provider threatening to disconnect your Wifi for non-payment with a link to bring your account up to date
No legitimate business will ever include a link in an email or text message asking you to make a payment or change your details.  They would always ask you to log into your account to do this, or contact them by phone.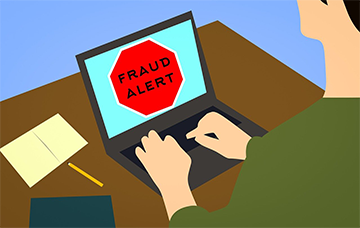 What do you do if you have been caught out?
Citizens Advice Bureau can help of you have been scammed or think you have been scammed 
Additionally, the Action Fraud Network can offer advice and support.
If you have lost money due to a scam, be sure to contact your bank straight away, during this time, many banks are offering free online sessions on how to keep yourself safe online and to avoid scams, you can find more information by visiting your banks' website.