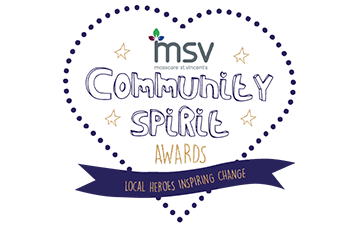 On Thursday 10 December, we celebrated and thanked our amazing customers and charity partners for their kindness and compassion shown to their communities this past year.
Due to the Coronavirus pandemic, for the first time we streamed the 2020 Community Spirit Awards live and online. Which meant we could still have the excitement and shared experience of a live event but without breaking social distancing rules.
Over 800 people watched our first virtual Community Spirit Awards online and it really was a fabulous night of entertainment and celebration of our local hero's inspiring change in their communities across Greater Manchester.
If you missed it on the night, a full recording of the event can be watched anytime here: www.msvhousingevents.co.uk
(Fast forward to 40min for the start of the show.)
Hosted by Mancunian Legend DJ Mike Shaft, the night featured live performances from the incredibly talented; Hand to Hand Duo Act, Magician and Entertainer Michael 'High Jinx' Jordan and a mesmerising vocal performance from singer Kirsty Tattler.
MSV's Group Chief Executive Charlie and Board Chair Martin presented the awards and were joined on-stage by Community Projects Manager Stephanie, and Jenny, Chief Executive of Tpas. The atmosphere was electric and winners were over the moon as they picked up awards across seven categories. A full list of winners can be found below. 
A huge congratulations to all of our award winners and nominees and Thank you to everyone who joined us to help celebrate on this special night.
---
And the winners are..
Community Group of the Year
KYSO
KYSO is an amazing group that brings young people from across Manchester to take part in volunteering, dance, singing and building friendships. The group have not let COVID-19 stop them doing great work in the community during the last seven months.
With the help and encourgement from Kemoy Walker giving the young people the confidence, knowledge and tools to run quizzes, talks and more on Instagram. They have offered their help for a six week period to give out pack lunches for young children of school age.
KYSO also ran a summer programme offering a different activity each week during the school summer holidays. This was a fantastic experience for the young people within the community of Moss Side and beyond and was much needed following major incidents that occurred during June/July. Not to mention the Pandemic which caused many young people to stay indoors which was affecting their mental health.
Delia Hampson-Wild
Delia has been a rock to her community during this pandemic and has brought the community together during this difficult time. Delia asked her community for help with material/bedding that they no longer needed, this was to be used for the much-needed items for the NHS. Delia washed, dried and made hundreds of scrubs bags which she distributed to local hospitals, care homes and key workers, she also distributed hundreds of face masks ear protectors that were made by some of the members of the Bramhall Community Hub. 
Delia has provided food parcels to our most vulnerable residents and done shopping for those who were shielding. Delia also did lots of baking, in fact, 50 individual apple crumbles have been made and distributed to vulnerable residents along with 10 large homemade various cakes, which were cut into portions and given out. Delia has been a lifeline to people in her community, knocking on and having a doorstep chat, and making phone calls. Just when things seemed to calm down along came face masks, again she set to making face coverings and bags which she gave to local care homes and shops, people in the community, she also posted out on request to MSV tenants who were struggling, also the Wellspring (foodbank) which were put into every bag. Delia always finds the time to help others even though she is looking after her husband on palliative care.
Delia is a beautiful person with a generous heart and soul and should be recognised for all her hard work and commitment, for the love and kindness she shows her community.
Community Project of the Year
Stork Support
Stork Support have delivered over 700 parcels to families in need across Manchester, Salford and Trafford, and continued over the summer holidays, ensuring families who are struggling due to rising costs and reduced income are supported and their children able to thrive.
They deliver baby essentials nappies, wipes, formula milk and baby food 6mths+, infant toiletries (baby wash, shampoo, lotion, oil and talcum powder) and medicines such as Calpol and teething gels to families in hardship due to the Covid-19 pandemic.
Stork Support deliver parcels to MSV tenants within Salford, Manchester and Trafford, working with relevant teams to identify the most vulnerable clients. Helping at least 30 new clients each with 1-3 children under 5, some for 3 weeks or more.
The Handy Ladies 
Handy Ladies are a cleaning company and during the first lockdown, they were unable to carry on with their company. The ladies got together as they wanted to do something to help their community, and Handy Ladies Feeding the Community was formed on the 1st April and still going strong. They have brought together an army of volunteers 56 in fact and provide 380 hot meals a week to the vulnerable residents of Stockport. 
The Handy Ladies started with a target of £1000 and at the time has 13 clients for hot meals and 5 clients for hardship parcels, to date they have raised a staggering amount of £27,000 from funding applications and donations form the public and local businesses. They also have a Homebake Team who provide the desserts. They are also planning a Drive Through Sants on the 12th December from Manchester Rugby Club and will be providing those who are alone or vulnerable on Christmas Day with a Christmas Dinner, also a gift that is being donated from people in the community. Distance can save a life, but distance can also kill. These ladies have opened the hearts of the community in Stockport and are killing this virus with human kindness.
Rose Makin
Rose ran the Children's Craft Club from the Carrbrook Community Hub, but when the hub closed in March this year Rose came into her own. There was no way she was going to abandon the children in her group and the children on the estate. Rose put together activity craft bags and delivered them to keep the children busy during the lockdown, which was really appreciated by both children and parents. 
Rose has continued to think of ways to keep the community together and has recently run a Halloween Competition which was a great success. There were 3 categories Pumpkin Carving, Best Fancy Dress and Best Dress Garden of Home. There were lots of entries and were advertised on Social Media. A Halloween walk was created listing all the Houses and gardens that were decorated, children and their parents walked around looking for the houses, some people left out treats for the children to take away.
Rose has secured a donation of a large Christmas Tree which has been sited outside Raja's Convenience Store right in the middle of MSV Carrbrook Estate, this will be decorated with the wishes and special messages from the children on the estate, there has also been a donation of wooden built snowmen which will sit beside the tree, which the children will paint.
Rose is a breath of fresh air on the estate, has not let this pandemic get in her way
Young Shining Star Award goes to ALL nominees!
Roberto, Shiloh, Hallie-Codie, Jamelia, Laure, Michael, Kerrin, Kacee were all nominated and won because, during COVID, they have given up their time to help support the local community.

Shiloh Marsh accepts the award on behalf of all winner.
They attend the Powerhouse weekly to help with pack lunches for young children of school age, they committed to 3 hours weekly doing this work for 6 weeks attending each day.
They also contributed to attending weekly zoom sessions whey they have worked with other young people giving them hope and motivation to keep going whilst also following the same advice keeping their mental health in check. They continued to work with KYSO Group taking part in social distance activities on a weekly basis to help better their mental health and others. The young people were very creative and logged onto Instagram weekly to deliver talks and online content to reach young people who were staying at home following the governments announcements.
They have been very creative running quizzes, young people topics and one to one talks with young people, getting them involved and interacting. They have really worked hard during a difficult pandemic and continue to make an impact.
Angela Taylor
Angela has been helping our most vulnerable residents from the beginning of this pandemic. She has been making sure all our older and younger vulnerable residents are coping. Angela has been helping people who are shielding with their shopping and getting medication, in fact anything that is needed nothing is to much trouble.
Angela has also helped out with the Free School Dinner for school children which were run by Stalybridge Celtic Football Club, anything that was left over Angela delivered to the older residents in the community.
Angela has been a lifeline to those who have been shielding. Angela does not let her deafness hold her back in any way.